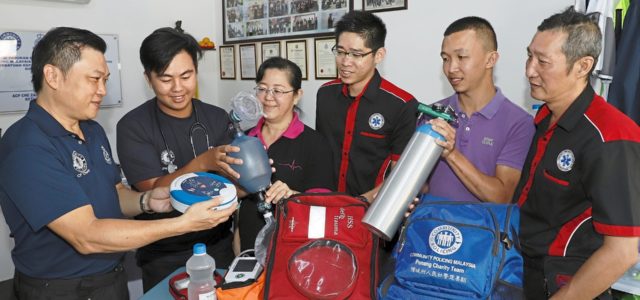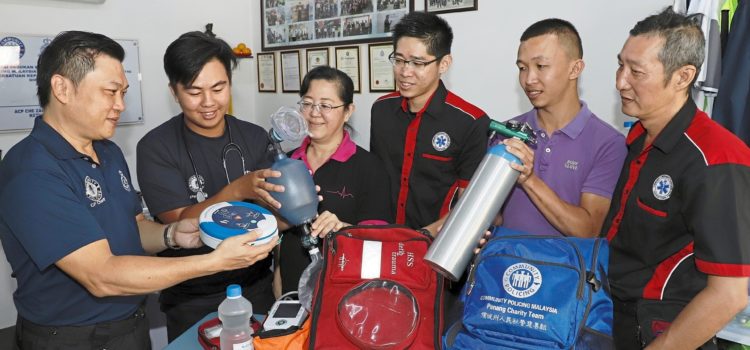 Clinically dead for at least 30 minutes but brought back to life. How is this be possible? A 68-year-old lorry driver may be the...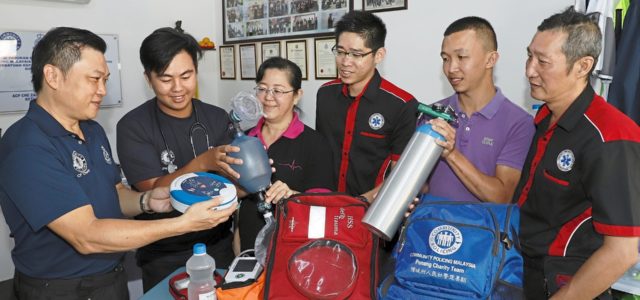 Clinically dead for at least 30 minutes but brought back to life. How is this be possible?
A 68-year-old lorry driver may be the living testament of this when he was rescued by an Automated External Defibrillator (AED) under the Penang Heart Safe programme.
Recounting the drama of the rescue mission, Community Policing Malaysia's Ayer Itam Charity Team chairman Lim Teik Aun said he got an alert that a lorry had crashed into the post of a traffic light in Air Putih, not far from where he was working on Oct 30.
He rushed there and found that the lorry driver had suffered a sudden cardiac arrest (SCA). 
"A bystander and I moved the lorry driver out of the vehicle and straightaway performed Cardiopulmonary Resuscitation(CPR) on him."
"He was not breathing and didn't show any sign of life. The bystander performed chest compressions and I gave the rescue blown."
"We did around 3 CPR cycles", he said, adding that his team then came with the AED and an oxygen tank.
"We followed the AED's voice-prompt instructions and the device gave him 3 shocks. We kept on giving him CPR until the ambulance came," he said.
The rescue team comprised Community Policing Malaysia, Civil Defence Force, Community Emergency Response Team and the Fire and Rescue Department.
Penang Heart Safe Programme chairman, Datuk Dr Luah Lean Wah, said the lorry driver is in stable condition and recovering at Penang Hospital.
"The patient's heart stopped for at least 30 minutes. He is lucky to be alive. The rescuers performed CPR on him within the 'golden' time, which is within 4 minutes after he collapsed."
She explained that the AED was a voice-prompt, battery-operated portable device that could diagnose whether the shock is needed or not and to treat accordingly.
"All AED can be used and there is better one with real-time feedback which can monitor the quality of the rescuer's CPR, hence increasing the confidence of those doing CPR," she said.
Dr Luah, the Health Ministry's national head for resuscitation training, said more than 25,000 Penangites had attended workshops on using AEDs and performing CPR.
"Before purchasing an AED, one must always remember that cost did not dictate the device's function."
"The AED's warranty, user training, after sales support, battery life span and cost and also the pad replacement cost should be considered before purchasing one."
In Penang, there are 64 AEDs costing over RM500,000 placed in public places including schools that anyone can use it in needs.
It was used for the first time in September 2018 by 5 teenagers who are volunteers of St John Ambulance Malaysia. They used an AED placed at a school to save the life of a football player who collapsed during a match.
To read a map of where the publicly accessible AEDs are located, go to the "Penang Mass CPR-AED Program" Facebook page.
Source: thestar.com.my